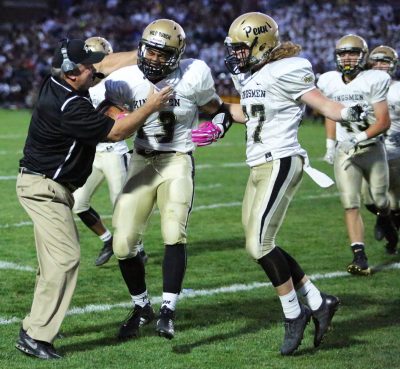 Penn's Football Team left no doubt about who rules the Northern Indiana Conference.
Coach Cory Yeoman's Kingsmen slugged Mishawaka with 48 unanswered points and roared to the Northern Indiana Conference North Division Championship with a 48-7 victory against the Cavemen.
Penn's NIC title is the 36th in Program history. The Kingsmen have won seven NIC championships in a row.
Penn only needed one play to erase a 7-0 Mishawaka lead. Zach Usenick hauled in a strike from Ryan Lynch and zoomed past the Cavemen defense for a 60-yard touchdown.
Paul Moala recovered a fumble on the Mishawaka 25 on the ensuing series and the Kingsmen cashed in with an eight-yard TD run by Ryan Whiteman.
Penn's two quick strikes triggered a Kingsmen scoring avalanche as Penn rolled up a 34-7 halftime lead.
Whiteman ended up scoring three TD's, the three-yard run, a 64-yard run and a 1-yard run.
Quarterback Ryan Lynch scored on a 12-yard sweep.
Lynch also had a second TD pass, a seven-yard connection to Brock Boynton.
Trenton Horvath finished off the Kingsmen scoring with a four-yard run.