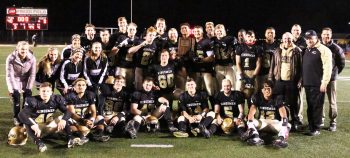 Penn Football struck fast and furious, scoring 40 points in the first half to storm past Warsaw, 40-0, to capture the Class 6-A Sectional 2 Championship on Friday, Nov. 3.
Friday's victory gave Penn its fifth consecutive Sectional Championship and 24th in program history.
The Kingsmen got on the board on the first drive of the game. Ryan Lynch connected with George Ohlson for a 5-yard TD pass to put the Kingsmen up 6-0.
On the next Kingsmen possesion, Ryan Whiteman zoomed 58 yards for the score to put the Kingsmen up 12-0.
Whiteman struck again on the first possession of the second quarter. The junior running back bolted  69 yards for the Kingsmen score as the Penn lead grew to 19-0.
The next Kingsmen TD came from the punt return crew. Notre Dame commit Paul Moala recovered a Warsaw botched snap on a punt in the end zone to put the Kingsmen up 26-0.
Brock Zolman scored on a 4-yard run on the next drive to put the Kingsmen up 33-0.
Seconds later, Caden Paquette struck for a Wild Bunch TD with a 36-yard Pick-6 to put the Kingsmen up 40-0 at the half and round up the scoring.