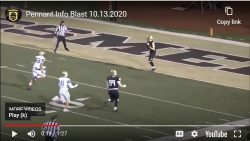 Penn's Football season ended in the first round of the IHSAA Class 6-A Sectional with a 20-14 loss to Chesterton on Friday, Oct. 30, 2020.
The Kingsmen finished the 2020 season with a 5-5 record.
KINGSMEN SCORING
Kyle Riffel 1 run (Ryan Majerek kick). Second quarter 10:28.
Kyle Riffel 1 run (Ryan Majerek kick). Fourth quarter 9:07.
KINGSMEN HIGHLIGHTS
QB Ron Powlus connected with Carson Mumaw for a 43-yard pass to the Chesterton 5, setting up Kyle Riffel's TD in the first quarter.
Seth Jankowski intercepted a pass in the second quarter at the Kingsmen 45. Jankowski returned the interception to the Chesterton 35. The possession for Penn ended with a missed field-goal attempt (31 yards).
Ryan Plummer intercepts a Chesterton pass at the Penn 15 to snuff a Trojans' drive late in the second quarter.
Kingsmen recover fumble at their 48. Fourth quarter 11:28. Kingsmen score on the ensuing drive to tie the score at 14-14 with 9:07 left.
Ron Powlus 12-of-19 passing, 152 yards.
Nick Favilla 6 catches for 58 yards.
Kyle Riffel 3 catches for 39 yards.
Kyle Riffel 27 carries for 172 yards, two TDs.