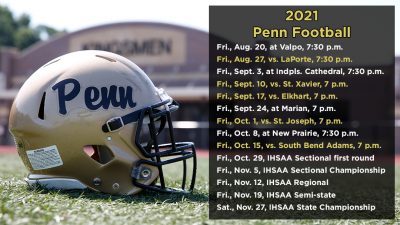 By ANDREW PHILLIPS
The Penn Kingsmen Football Team is eager to tackle one of the state's toughest schedules in 2021.
Coach Cory Yeoman's Kingsmen take on two State Champions, two Regional Champions, and one Sectional Champion in the 2021 regular-season.
Penn opens the 2021 season at Valparaiso High School at 7:30 p.m. ET, Friday, Aug. 20. The Vikings were Regional Champions last season in Class 5-A, and were state runner-up in 2019.
The first home game for the Kingsmen will be at 7:30 p.m. ET on Friday, Aug. 27, against LaPorte.
On Friday, Sept. 3, Penn travels to Indianapolis to play 2020 Class 5-A State Champion Cathedral. That game has a 7:30 p.m. ET start and will be played at Arlington Field, 4825 N. Arlington Ave., Indianapolis.
Penn will host a State Champion from Ohio – St. Xavier – at 7 p.m. ET on Friday, Sept. 10.
Northern Indiana Conference action opens with a rivalry game as the Kingsmen host Elkhart on Friday, Sept. 17 (7 p.m. ET kickoff).
Penn's NIC schedule continues with an away game against Class 3-A 2020 Regional Champion Marian at 7 p.m. ET on Friday, Sept. 24.
On Friday, Oct. 1 (7 p.m. ET), the Kingsmen host South Bend St. Joseph.
Penn hits the road on Friday, Oct. 8, to play at New Prairie (7:30 p.m. ET).
Senior Night festivities will take place at the regular-season finale, a home against against South Bend Adams (7 p.m. ET) on Friday, Oct. 15.
State tournament action starts on Friday, Oct. 29.
Penn has a scrimmage scheduled at Crown Point on Friday, Aug. 13 (7 p.m ET).