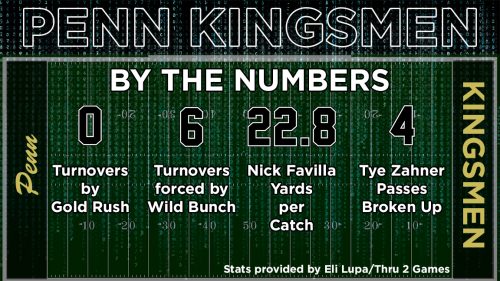 By ELI LUPA
Statistics and Keys for Penn Football heading into the game against Indianapolis Cathedral (7:30 p.m., Friday, Sept. 4). 
51 total points Penn scored over the course of two games – 35 against LaPorte, 16 against Valparaiso. AVG: 25.5 points per game.

0 turnovers committed by Gold Rush offense.

Nick Favilla averages 22.8 yards per catch.

6 total turnovers forced by Wild Bunch defense.

Tye Zahner – 4 broken up passes, 7 tackles, 3 assisted tackles, and a pick 6 in two games.