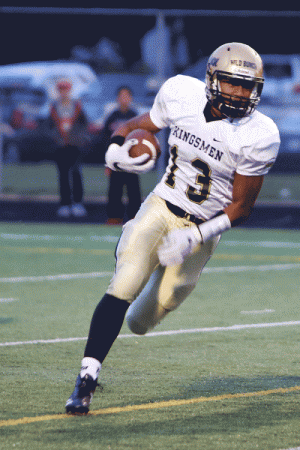 By GARRETT WENZEL
Penn High's Football Team began its state run against the team the tagged the Kingsmen with their only loss — the Valparaiso Vikings, on Friday, Oct. 27.
Penn lost 12-7 to Valparaiso in the first game of the season.
The Kingsmen looked for the opposite result this time against the Vikings and got it, winning 13-0 and knocking Valparaiso out of the state tournament.
Penn (9-1) hosts Warsaw (6-4) at 7 p.m. on Friday, Nov. 3, for the Sectional Championship.
Lightning struck twice for the Kingsmen late in the second quarter.
With 4:00 minutes left in the second quarter, sophomore quarterback Ryan Lynch passed to Zach Usenick for 3 yards for the TD to put the Kingsmen up 7-0.
Just over a minute later, Lynch's TD strike to Notre Dame commit Paul Moala for 36 yards put the Kingsmen up 13-0 at the half.
Penn's Wild Bunch Defense would do the work the rest of the way. The Wild Bunch stopped Valpo short of the goal line on downs at the 3. The Wild Bunch forced two turnovers – a fumble on another long Valpo drive, and an interception right after Valpo blocked a Kingsmen punt.
As the final seconds ticked off the clock, the Kingsmen avenged that Week 1 loss and pushed Valpo out of the playoffs.