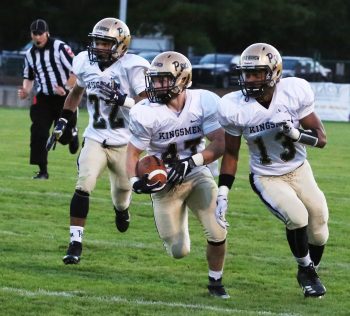 By CONNER ALLEN
There are six Yeomans listed on the 2017 Penn Kingsmen Football roster.
Five of them are leaders on the sidelines — head coach Cory Yeoman, and assistant coaches Trent Yeoman, Todd Yeoman, Gary Yeoman and Tyler Yeoman.
The sixth is a leader on the field for the Kingsmen, Gabe Yeoman.
Gabe is a 5-foot-10, 200-pound fierce linebacker. The Senior calls the defensive signals and has emerged as an impact player as a player and a leader.
Gabe Yeoman has been making a name for himself with his play on the field. And he doesn't get preferential treatment by his father Todd, uncles Cory and Trent, and cousins Gary and Tyler.
"They don't treat me differently from the rest of the team, but it's still enjoyable because I am surrounded by my family every practice/game," Gabe Yeoman said. "I can trust that they will call me out on my mistakes before any other coach would."
Yeoman appreciates growing up in the Football family.
"I feel like I have a better understanding of packages, formations, than I would have if I hadn't grown up in a football household," Yeoman said. "It's bigger than football. They teach us life skills, like how to be a leader, how to be responsible for your actions, to be accountable. These are lessons that will carry on past the football field on to the rest of our lives."
Being a leader on the Penn defense, one player at Penn who helped Gabe become the player he is today is Joey Hedstrom, who graduated after leading the Kingsmen to a 12-1 record last season.
"Joey was a year ahead of me and he actually played inside linebacker as well," Yeoman said. "He taught me a lot and he wasn't just one of those upperclassmen who didn't care about the underclassmen."
In addition to spearheading the "Wild Bunch" defensive attack this season, Yeoman is also a rugby player.
As for his future, Gabe plans on attending Indiana University in the fall of 2018 and playing rugby. He would also like to try and walk on to the football team there as well.
But as far as this year goes, Gabe thinks very highly of the Kingsmen.
"I think this team we have right now is very talented and we have the chance to do big things this year!"