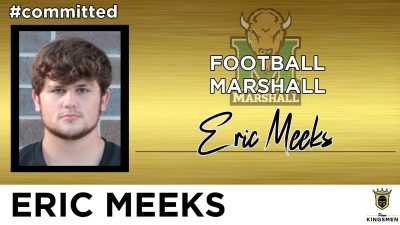 Eric Meeks, a new member of the Penn Football Gold Rush, will take his talents to Marshall  University.
" During my visit to Marshall I could feel the support from the coaching staff and players," said Meeks, who moved to the Penn-Harris-Madison School District from Cincinnati. " The tradition and community surrounding Marshall is very strong, which creates great team energy and chemistry."
"Meeks, a 6-foot-3, 285-pound Offensive guard/Center/Long snapper, is a force in the trenches. Playing multiple positions on the line, Meeks is a key role to any offensive.
"The Penn football program has been nothing but supportive of my transfer and has welcomed me with open arms," Meeks said. " The Penn program is very organized and pushes you to be the best you can be, this helped me with my college choice."
Meeks is expected to make an immediate impact at Marshall.
"Meeks is a giant snapper who is also a stud offensive linemen," Kohl's long snapping camp coach Casey Casper said. " He is extremely strong and athletic for his size, Meeks has the size to play at all levels and the talent to boot."