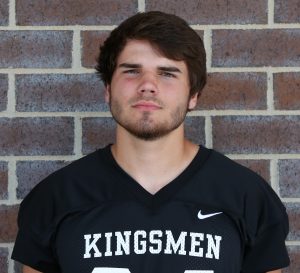 All great defenses start with the defensive line. Without pressure, the quarterback has time to throw and the run game is more effective. Penn is no exception, and defensive end Christian Forsythe is a key factor in the success of the Kingsmen defensive line in the 2019 season.
Forsythe, a 6-foot-5, 215-pound Senior, has been an impact player even though his strength isn't what it normally is due to arm surgery. Despite not having his complete strength, he has other aspects that make him a dominant player.
"I bring size and experience," Forsythe said. "I am not so strong at the moment as I am recovering from arm surgery, but my size and experience aren't matched by anyone else."
Kingsmen Head Coach Cory Yeoman thinks that Forsythe has a different aspect to his game.
"(Christian) understands concepts really well," Yeoman said. "He also grasps concepts very quickly. He's a student of the game. That allows him to play multiple positions."
Forsythe made improvements over the off-season to his game mentally and physically. He did multiple training programs over the summer as well as learned more about the game.
"During the off-season, I did many college football camps," Forsythe said. "I came in before school and did speed training with coaches as well as walk-throughs after school. I also met with a personal trainer to increase my skills and athletic ability, as I still do now. I would go to the gym after school as well as lift at school in strength and conditioning class."
Forsythe's improvements didn't stop there. He also had to become a senior leader on the team. He values this role as a leader, as he has always looked up to a leader on the team. The seniors he looked up turned him into the dominant player he is today.
"Last year I would look up to Rockne Hurley," Forsythe said. "Two years ago I looked up to James Morris. James was an extremely dominant football player and I still try and do things he would do. Rockne helped me learn everything I know, gave me tips and taught me how to be a good D-lineman."
Forsythe not only learned on-field skills from players like Hurley and Morris, but he also learned how to be a leader.
"As a senior, I try to make sure everyone is doing the right thing and to lead by example," Forsythe said. "While on the field, and we are all tired and sucking air, I try and encourage to keep pushing. That it'll only make them better. I'm always giving all of my effort as well."
Forsythe isn't the only leader on the team. All the seniors on the team are leaders and share the responsibility.
"Like all our seniors on the team, (Christian is) a captain," Yeoman said. "He's in charge of rallying the team and making sure everyone is doing what they are supposed to be doing."
The senior leader Christian Forsythe not only is a great player, but a great leader as well. He's a force on the field that has the Kingsmen looking at success in the State Tournament.