Football: Bryce Stone a Rising Star for the Kingsmen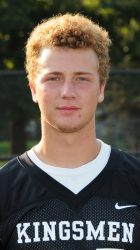 Playing varsity football for Penn is a great honor. Earning a Gold Rush or Wild Bunch sticker for your Penn Football helmet isn't easy. It takes a special person to be able to start on the team. For Bryce Stone, his senior year was the first time he was handed a Wild Bunch sticker.
Stone, who is 6-foot-0, 190 pounds, has played football from middle school through high school. As a junior, he got some playing time on special teams and on defense, but wanted to contribute in a greater way. He was recognized as a hard worker on the field and in the weight room, and was determined to reach the level he needed to achieve at the time.
This year, it was his time. He stepped up into the varsity spot at outside linebacker.
"I have definitely improved on my game IQ and the tempo I play at," Stone said about his improvements from last season. His skills were shown in week one against Valparaiso when he got a crucial interception. From the beginning, he made it clear that he could be a difference-maker for the Wild Bunch.
Stone attributes a lot of what he's learned to his the players in the class above him. Now that he is that player, he feels as though it's his duty to mentor the younger players.
"Throughout my high school career I have always looked up to the seniors," Stone said. "Now that I am a senior, I feel responsible for teaching the underclassmen," he said.
This not only illustrates the type of leader Stone is, but also his good character: the exact type of player Penn's coaches want on their defense.