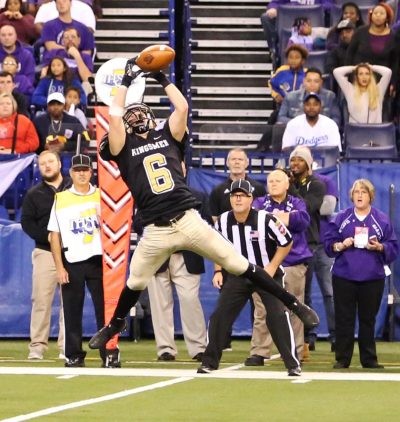 It wasn't the way the Penn High School Football Team wanted the season to end, a 63-14 loss to Indianapolis Ben Davis in the Class 6-A State Championship Game on Saturday, Nov. 25.
But the 2017 Penn Football Team carved out a lasting legacy, and embarked on a remarkable journey that will own a proud place in the Kingsmen Athletics pantheon.
A Photo Gallery of the State Championship Game is posted here.
Penn's Football Team suffered a season opening 12-7 loss at Valparaiso, and then struggled in the second game of the season, a 7-0 victory against Merrillville.
Then, inspired by exceptional Senior Leadership and guided by the Kingsmen Coaching Staff under the direction of Head Coach Cory Yeoman, the Gold and Black turned their season around.
In Game Three, the Kingsmen traveled three hours to Berkley, Mich., to take on traditional Michigan powerhouse Brother Rice. Penn blasted to a 38-0 victory, igniting an amazing run.
Penn rolled through its next six regular-season contests, wrapping up the Northern Indiana Conference Championship with a 48-7 victory against arch-rival Mishawaka.
In the Sectional opener, the Kingsmen traveled to Valparaiso, turning the tables on the Vikings for a 13-0 victory.
Penn wrapped up the Sectional Crown with a 40-0 victory against Warsaw, and then won the Regional Championship with a 33-3 victory at Crown Point.
Penn punched its ticket to the State Championship Game by slugging defending State Champion Carmel, 34-7, eliminating the team that ousted Penn the previous season. In beating the Greyhounds on their home turf, the Kingsmen earned a berth to Lucas Oil Stadium, home of the NFL's Indianapolis Colts, for the State Championship.
On Sunday, the community honored the Penn Football Team for overcoming adversity to make 2017 a Championship season with Northern Indiana Conference, Sectional, Regional and Semi-state trophies.
At the Community Celebration, Penn-Harris-Madison Supt. Dr. Jerry Thacker praised the Penn football team for its commitment to excellence and for embodying the Triangle of Success that has P-H-M ranked as the Gold Standard in Indiana.  Dr. Thacker also thanked the parents, staff and students for their involvement in the commitment to excellence.
Penn Principal Sean Galiher congratulated Penn Football, the parents, students and all who made a tremendous team effort that saw the Kingsmen reach the State Championship game.
Penn Athletic Director Aaron Leniski lauded Penn football for an outstanding cumulative GPA of 3.27, and for being outstanding role models for the youth of P-H-M.
Penn Football Head Coach Cory Yeoman, with Senior DB Paul Moala, thanked all involved – players, parents, students, staff & community – for the tremendous effort that took Penn to the State Championship Game.