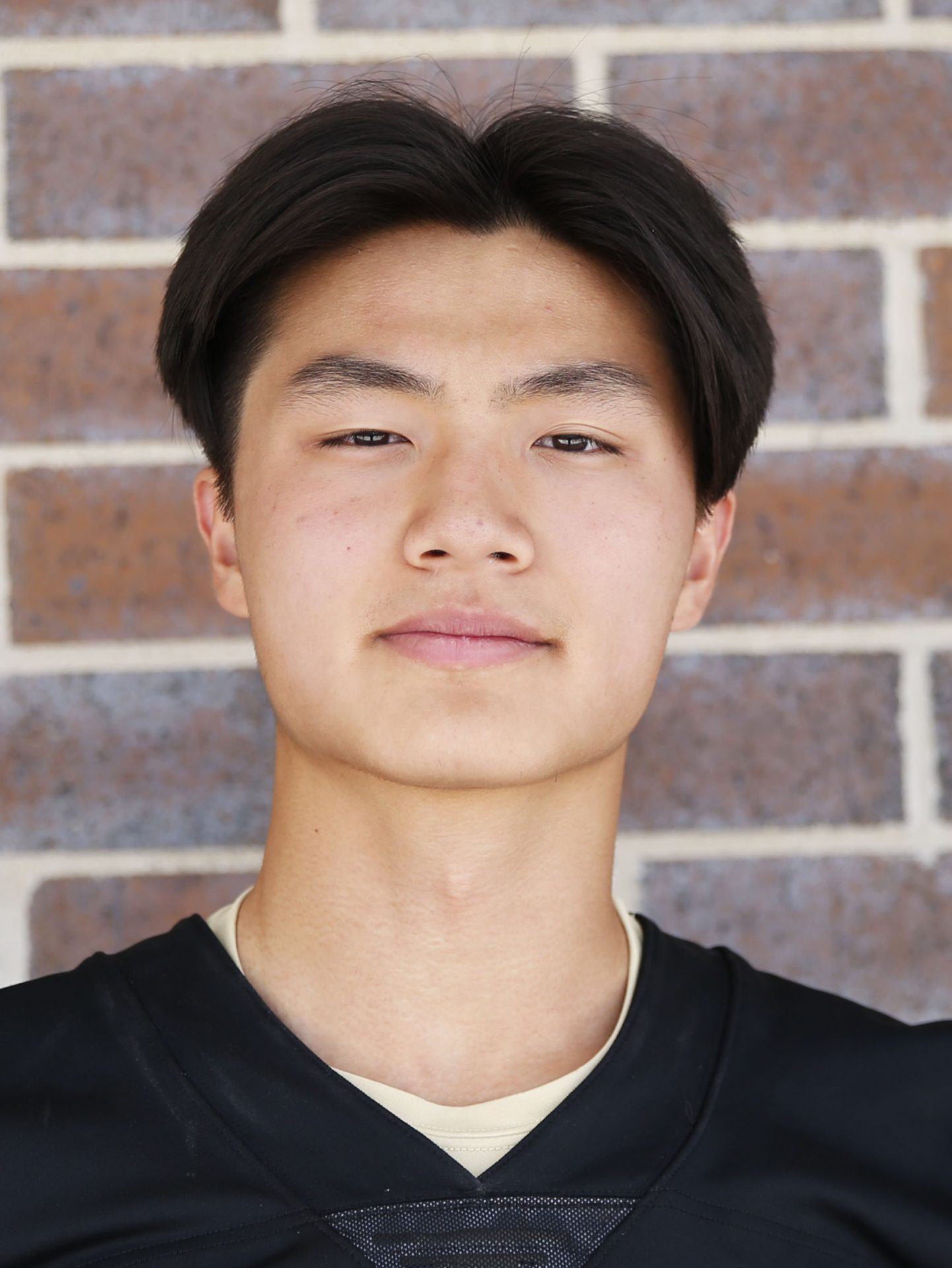 By ARTHUR HAINES
Pennant Reporter
Three steps back. Two steps to the side. Letting out a deep breath, the deafening Penn student section fades into the background as Kingsmen Senior Matthew Zhang prepares for the kickoff. He begins to move forward, plants his foot, and boots the ball into the glare of the stadium lights. The ball reaches the opposing 10-yard line, exactly where Zhang aimed, and Penn's special teams players quickly swarm the returner thanks to the well-placed kick.
Matthew Zhang made an impact on Penn's Sectional Championship Football season in the Fall of 2021. And he's made an impact in the classroom throughout his Penn academic journey.
Zhang's accomplishments were recognized as he has been named a winner of the prestigious Moose Krause Scholar-Athlete Acholarship, presented by the Moose Krause Chapter of the Indiana Football Hall of Fame. Krause is the legendary former athletic director and former athlete at the University of Notre Dame.
Zhang, a valedictorian at Penn, has been accepted to attend Ivy League school Princeton. He is ranked No. 2 academically out of almost 800 students in his senior class at Penn. Zhang boasts a 4.46 cumulative GPA (on a scale of 4.0), largely thanks to the 14 AP classes that he has taken, earning an A-grade in each one.
"Keeping up with my grades and academics has always been the most important part of high school for me, even above football," Zhang emphasized. "I love football, but I never wanted to let that get in the way of excelling in school because I knew that, at the end of the day, academics were going to be the main factor in reaching my college and career goals. So, that's where I put my priorities."
The hard work and devotion that Zhang has shown in earning all of his honors has produced understandably significant results. He has been named a National Merit Scholarship Finalist and Presidential Scholar Semifinalist, was awarded the Indiana Association for the Gifted Merit Scholarship.
To Zhang, however, the culmination of his diligence was his admission into Princeton University.
"I honestly didn't know what to expect when I started opening admissions decisions," Zhang said. "I was excited, but really nervous at the same time. But when I opened my Princeton decision and saw that I was accepted, it was just a moment of relief. I knew that all the time I spent studying, practicing, going to meetings after school, and everything else was worth it."
Beyond sports and academics, Zhang has also participated in a number of other extracurriculars as well. He is a soccer referee, Mathnasium instructor, part of the robotics team, member of the Executive Board of Model United Nations, Treasurer of Key Club, and President of Penn's DECA Chapter, earning first place in his event at Sectionals. Clearly, he has no shortage of credentials.
"I just try my best to give every snap and every kickoff my all," Zhang said. "Every time I go out on that field, I'm representing Penn, but I also feel like I'm representing my friends and my family, so I want to make sure that I'm representing them well."
Last season, Zhang assumed both punting and kickoff duties for Penn's varsity football team. He punted the ball 51 times for a total of 1,632 yards, averaging 31.4 yards per punt. Additionally, he was responsible for 42 kickoffs totaling 2,227 yards with a 53.0 yard average. Zhang kicked seven touchbacks and pinned the opponent at the 23-yard line on average. For his efforts, he received a number of honors, including the WHME-46 & TCU Student Athlete of the Week, Varsity Letter, Senior Captain, and Academic All-State.
Like any other high school kid, of course, Zhang has had his fair share of fun along the way. He says that the time he's been able to spend with his friends has not only made his last four years memorable, but helped him to reach the heights that he has.
"Yeah, I go out and do stuff with my friends as often as I can," Zhang said. "Sometimes it's a long drive and a full day in Chicago, and other days we might just go bowling on a Monday night and let off some steam. Either way, we always have a lot of fun and having that to fall back on has made high school so much more special. We all push each other to be better, too, which, I think, was a big factor in getting to where I am."
Zhang is well aware of the support that he has had around him along the way and the impact that it has had on his success.
"… I'm just really grateful for my family and friends being by my side the whole time. It's made all the difference in letting me thrive and get to places I never thought were possible."
As his time at Penn comes to a close, Zhang will enter a new chapter of his life. He plans to pursue a degree in computer science from Princeton and start a career in New York. He's not ready to hang up his helmet and cleats up just yet, either, as he has been in contact with coaches at Princeton and intends to continue playing the sport he loves while earning a world-class education.
"It's been a pretty bumpy road to get here, but I'm really happy with where I'm at now, and super excited to see where I go next."