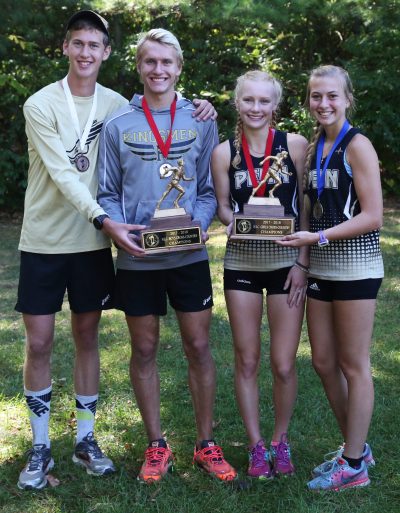 The Penn Boys and Girls Cross Country Teams dominated the Northern Indiana Conference Championships on Saturday, Sept. 30.
Click here for a Photo Gallery of the NIC Championships.
The complete results are posted below.
Penn's Girls Cross Country Team finished the 13-team race with 27 points, followed by South Bend Adams with 61 points. Mishawaka was third with 66 points. Penn placed seven runners in the Top 15.
Lauren Frank won the NIC Girls Individual Championship for the third consecutive season. Frank ran the 5K-course at Ox Bow Park in 19:00.5.
Dani Spring of Penn was second in 19:11.5. Ellie Jankowski placed sixth in 20:02.1, and Brooke Neal placed seventh in 20:09.2
Frank, Spring, Jankowski and Neal were named first-team all-NIC.
Reagan Hoke was 11th in 20:31.5, Aislynn Alkire was 14th in 20:36.3, and Kayla Edgerly was 15th in 20:37.1. Hoke, Alkire and Edgerly were each named second-team all-NIC.
"The Lady Kingsment ran strong today," Penn coach Michael Clements said. "This was a great win to kick off the post-season for us, and I'm fired up for what we can potentially do over the next four weeks.
"The day started fantastic with most of our girls in the JV race running all-time PRs, and the Varsity fed off of that excitement with some impressive runs of their own. It was particularly fun to see Lauren and Dani race in their last NIC meet where they were able to go 1-2 overall on their Senior Night while Ellie and Brooke were able to capture some 1st Team All-NIC accolades of their own."
The Penn Boys Cross Country Team placed first with 33 points. New Prairie was second in the 13-team field with 84 points, and South Bend Riley was third with 87 points. Penn placed three runners in the Top 5 and five runners in the Top 15.
Penn's Colton Shail placed second in a time of 16:21.0. Matt Long was third in 16:21.3. Curtis Cornell placed fifth in 16:33.0.
Shail, Long and Cornell were named first-team all-NIC.
Chandler Neal of Penn placed 10th in 16:45.4, Chad Piatt was 13th in 17:01.0, and Nick Sergeant was 20th in 17:27.5.
Neal and Piatt were named second-team all-NIC and Sergeant was named third-team all-NIC.