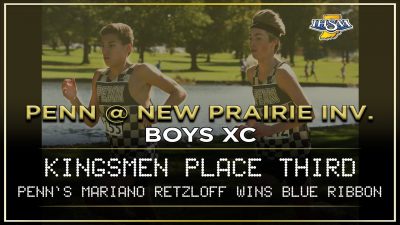 Penn's Mariano Retzloff became the first Kingsmen runners to place first at the New Prairie Invitational Boys Cross Country Varsity race in 40 years on Saturday, Sept. 19, 2020.
Retzloff earned the blue ribbon against a power-packed field with a time of 15:55.8. Penn's last New Prairie Boys Varsity race winner was Jim Nagle, who won in 1980.
Penn placed third as a team.
Penn – 1. Mariano Retzloff 15:55.8, 14. Dillon Pottschmidt 16:35.2, 15. Carter Kaser 16:36.4, 29. Ben Boardley 16:57.3, 40. Jason Juarez 17:11.5, 52. Nick Probst 17:28.3, 63. Caleb Evans 17:44.9