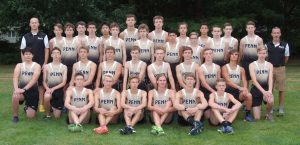 Penn High's Boys Cross Country Team captured the team championship of the Northern Indiana Conference Stomp Junior-Senior on Saturday, Aug. 19.
The Kingsmen placed third in the Freshmen-Sophomore race.
Penn placed five runners in the Top 15 of the Junior-Senior race.
Colton Shail led the Kingsmen showing in the Junior-Senior race with a time of 16:52.597 for fifth place overall.
Curtis Cornell placed 10th, Chad Piatt placed 11th, Nick Sergeant placed 13th, and Chandler Neal finished in 14th place.
Complete results are posted below: