Boys Track: Kingsmen win Goshen Relays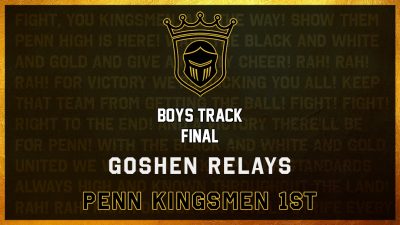 Penn High's Boys Track Team claimed the Goshen Relays championship by a half-point, edging Northridge, 100.5-100, on Saturday, April 24, 2021.
It was only the second time the Kingsmen claimed the Goshen Relays championship. Penn's other team title in the prestigious event was in 2013.
Penn's Vincent Nierzwicki-Trifiletti earned MVP honors for the Meet, winning three blue ribbons. Nierzwicki placed first in the 110 high hurdles, the high jump, and was on Penn's winning 4×400 Relay Team with Dillon Pottschmidt, Seth Jankowski and Tristian Manis.