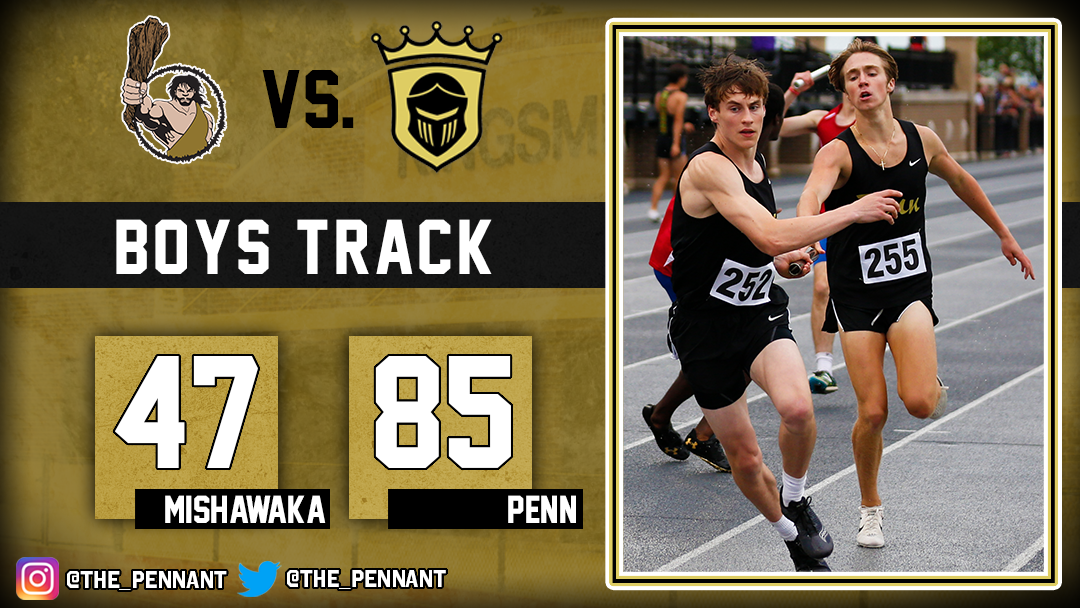 Penn defeated Mishawaka in the Boys Track & Field edition of the Backyard Brawl, winning 85-47.
Alec Hardrict started the meet off with a blue-ribbon in the 100-meter days, running an 11.05, with Jake Balis and Christian Kaczynski taking second and third respectively.
D.J. White won the 200 with a time of 23.83 seconds, with Skjold Aallmann and Elijiah Coker getting second and third.
Hudson Kaser came in first in the 800 with a time of 2:09.57 seconds.
Austin Wells won both the 110 hurdles and the 300 hurdles with times of 15.09 and 43.46.
Penn earned first in the 4×100 relay with a time of 43.73 seconds. The handoffs were flawless between Christian Kazcynski, Alec Hardridct, D.J. White and Skjold Aallmann.
The Kingsmen won the 4×800 relay with a time of 8:51.49 seconds. The 4×800 team was Hudson Kaser, Dylan DeDario, Conner Hamilton and Shahmeer Turk.
Skjold Aallmann won the high jump competition with a 6-foot-0 jump. 
Penn swept the podium in pole vault with Gabe Speicher, Mavric Poe, and Thomas Galiher scoring points for the Kingsmen.
Vishavjeet Turner threw the shot put 47-01.00 feet for the blue ribbon. 
Mike Paquette and Brendan Arendt wrapped up the meet coming in first and second throwing the discus with tosses of 155-08 and 144-04.
Complete results: