Boys Track and Field: Penn 98, Mishawaka 34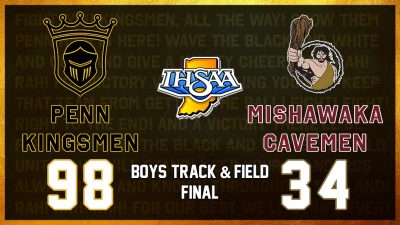 Penn Track and Field defeated Mishawaka 98-34 on Tuesday, March 17.
Highlights included Alec Hardrict beat out Josiah Williams in the 100 meter dash by 0.06 seconds in a tight race.
Josiah Williams placed first in the long jump.
Carter Kaser and Hudson Kaser placed first and third in the mile, and Seth Jankowski placed first in the 800.
Joey Rutten and Gabe Speicher tied for first in pole vault, and the Penn 4 x 100 relay team placed first.
Jason Grashorn won a blue ribbon in the shot put, and Mike Paquette won a blue ribbon in discus.
Click the PDF for complete results: