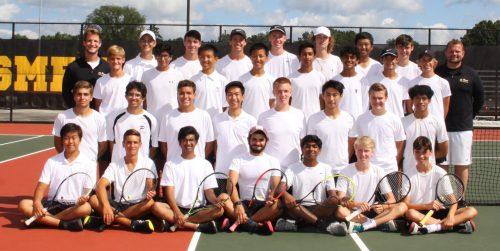 Penn Boys Tennis dominated Mishawaka, 5-0, in the last scheduled Northern Indiana Conference meeting between the two schools. Mishawaka is leaving the NIC to join the Northern Lakes Conference.
Will Thurin led the Kingsmen with a 6-1, 6-0 victory at No. 1 singles.
Aidan Sucharetza won 6-0, 6-0 at No. 2 singles.
Jalen Maust 6-0, 6-0 at No. 3 singles.
At No. 1 doubles, Jack Dinnon and Ryan Ludwig defeated their Mishawaka opponents,  6-3, 6-2.
Oliver Hu and Jackson Buhring defeated their opponents at No. 2 doubles, 6-0, 6-2.