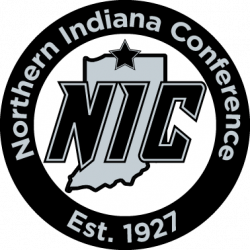 By LUCAS EVANS

The Penn Kingsmen won the Northern Indiana Conference championship in a dominant fashion at the Elkhart Aquatic Center on January 20, 2021. 

Penn placed first with a record-breaking performance of  607 points. Riley came in second with 433 points followed closely by New Prairie with 420 points.

The Kingsmen were able to set six individual NIC records, breaking every relay record in the process. This is the third consecutive NIC title for Penn and 17th in school history.

Aaron Dies, Connor Craig, Joe Radde, and Joel Cummins won the 200 medley relay in an NIC record time of 1:35.40.

Aaron Dies set another NIC record in the 50 free in 21.20.

Tomas Salas captured his second consecutive NIC title in diving with a personal best of 500.25.

Penn dominated the 200 freestyle relay setting another conference record of 1:27.58 with Joe Radde, Connor Craig, Matthew Howell and Kyle Brothers pulling away from the competition.

Aaron Dies earned a third blue ribbon and conference record in the 100 back going a final time of 51.48.

Aaron Dies, Joel Cummins, Matthew Howell, and Kyle Brothers went 3:12.60 in the 400 free relay to claim the NIC title and break another conference record.