Boys Swimming: Kingsmen win Sectional crown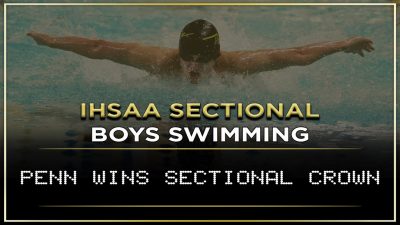 Penn's Boys Swim/Dive Team earned the Sectional Championship, outdistancing runner-up South Bend Riley, 512.5-390, on Saturday, Feb. 20, 2021. New Prairie placed third in the 11-team field with 355.5 points.
Kingsmen swimmers won seven events and set four Sectional records.
Aaron Dies won three blue ribbons and set three Sectional Records.
Connor Craig, Joel Cummins each won three blue ribbons and set two Sectional records.
Joe Radde, Matthew Howell and Kyle Brothers each won two blue ribbons and set one Sectional Record.
Tomas Salas won one blue ribbon.
Penn Sectional Champions:
200 Medley Relay: Aaron Dies, Connor Craig, Joseph Radde, Joel Cummins 1:33.17 (SECTIONAL RECORD)
50 Freestyle: Aaron Dies 20.74 (SECTIONAL RECORD)
Diving: Tomas Salas 495.70
100 Butterfly: Joseph Radde 50.01
200 Freestyle Relay Connor Craig, Matthew Howell, Kyle Brothers, Joel Cummins 1:26.48
100 Backstroke: Aaron Dies 49.80 (SECTIONAL RECORD)
400 Freestyle Relay: Joel Cummins, Connor Craig, Matthew Howell, Kyle Brothers 3:08.06 (RECORD)
Click the PDF for complete results