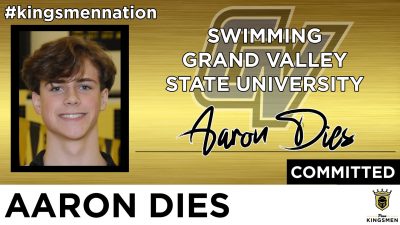 By ALYSSA MESSENGER
State Champion swimmer Aaron Dies of Penn is signing with Grand Valley State University.
Dies helped the Kingsmen win state last season in the 200 Freestyle Relay. Dies, who will be a senior this season, teamed up with Joe Radde, Joel Cummins and Brock Zuyderwyk to win blue ribbons in 1:22.60.
A State Finalist as a Freshman, Sophomore and Junior, Dies was named the Northern Indiana Conference MVP as a Junior.
Dies swam the second leg of the State Championship relay that finished with the second fastest time in IHSAA history. He swam a 20.24. Dies also started off the 200 Medley Relay at backstroke, which finished fifth in the state.
"I chose GVSU because my brother (Evan) has been swimming there for the past two years and has had a great experience," Dies said. "The coaches and faculty really care about you as a swimmer and a student-athlete, where a lot of other colleges focus more on your performance. They also had given me a great scholarship to continue my swimming and academic career there which helped me decide"
"It makes me feel like all the hours I've spent in and out of the pool training and lifting are worth it. It gives me the drive to go further and train harder knowing that I've made it to this point."
Dies appreciates his Penn experience.
"Penn swimming has created a great environment for me to grow and become used to the types of difficult training and situations college swimming would put me in. The coaches here have set me up for success in my future college swimming career."