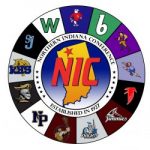 Penn seniors Brandon Stahl, Micah Craig, and Daniel Gries were named First-Team all-Northern Indiana in Boys Soccer.
Seniors Sammy Atkins and Evan Mercurio were named Second Team all-NIC. Junior Dorian Clayton was named honorable mention.
The Penn Kingsmen ended the season with an NIC record of 9-1.

Twitter
GIRLS GOLF: Penn defeats Riley & Jimtown in @NIC_athletics opener. PENN 166: Delaney Wade 37, Gillian Lippert 39, Meghan Mounts 42, Kenna Kelsey 48, Jill Daniels 57.