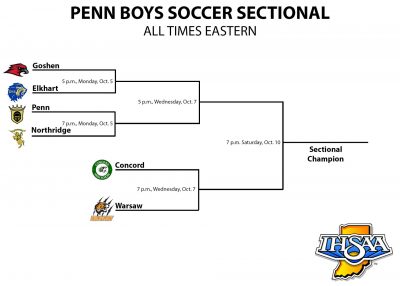 By JOSEPH SHOCKEY
Penn Boys Soccer opens the 2020 State Tournament with a blockbuster match, taking on the No. 5 Northridge Raiders at 7 p.m. on Monday, Oct. 5, at Penn High School's Lionshead Field. 
Goshen Plays Elkhart in the first-round game on Monday, Oct. 5, at 5 p.m. The winner of that game will advance to take on the winner of Penn vs. Northridge on Wednesday, Oct. 7, at 5 p.m. Concord takes on Warsaw at 7 p.m. on Wednesday, Oct. 7, in the second semifinal game.
The Championship Game is set for 7 p.m. on Saturday, Oct. 10.
The Penn Boys Soccer Team officially ended conference play ending with a record of 11-2-3. The Kingsmen have only lost a single home game this year and it was 1-0 against the Northridge Raiders.
Penn Boys Soccer has 12 Sectional Titles overall. Penn's streak of eight consecutive Sectional Championships ended in 2019. 
Tickets are $6 per game. No tournament passes available. Tickets can be purchased in advance online through the participating schools.