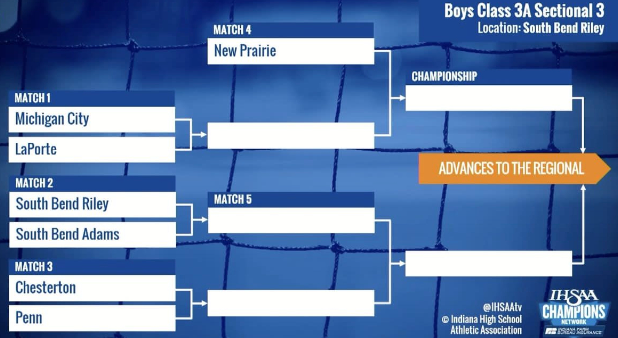 The Penn Boys Soccer team has just received their draw for sectionals and they will definitely have an exciting week to come at the Jackson Intermediate Center Soccer Field. In their first game, the Penn Kingsmen will face off against the Chesterton Trojans on Tuesday, Oct. 3, at 7 p.m.
If the Kingsmen defeat the Trojans, they will face the winner of an intercity matchup of South Bend Riley vs. South Bend Adams. The Semifinal is scheduled for Wednesday, Oct. 4, at 7 p.m.
The Sectional Championship is scheduled for 2 p.m. on Saturday, Oct. 7, at Jackson Field. The opposite bracket includes the New Prairie Cougars, the LaPorte Slicers and the Michigan City Wolves.
Tickets can be purchased online at https://websites.eventlink.com/s/ihsaa/Tickets.