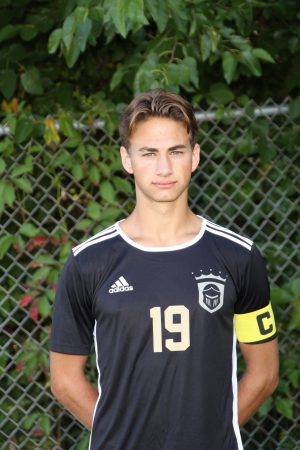 For Penn Boys Soccer Captain Jacob Eshowsky, walking onto Lionshead Specialty Tire and Wheel Soccer Field is the best feeling. Playing in front of the loud crowd is his motivation. 
Eshowsky has been a major influence in Penn's success this season. He helped Penn fight back from a challenging 2018 season to earn a share of the 2019 Northern Indiana Conference North Division Championship. He's helped the team win games, and been selfless about helping other players improve their skills.
On Tuesday, September 24, Eshowsky played a key role as a defender (center back) in helping Penn beat the No. 1 Soccer team in the state, Marian, 1-0.
It's a tough road to get on the Penn Varsity Soccer team, let alone serve as a captain of the team.
Along his journey, Eshowsky's greatest influence has been his coach of 9-10 years, Ryan Leniski. When a coach is there for you for that long, a special bond is made. Leniski has been an important source to help Eshowsky fulfill his potential.
Eshowsky has been a great captain for Penn, helping the younger players develop their skills and learn how to represent Penn Soccer the right way. His is a legacy that will help Penn Boys Soccer players have the same exhilarating feeling Eshowsky has when he walks onto the Soccer field, and help them walk off the field as winners.