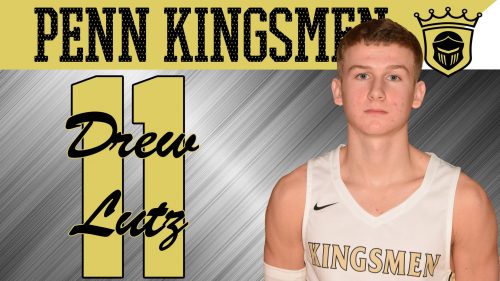 Penn High's Drew Lutz hit the 1,000-point mark on a four-point play, and finished with 20 point to lead the Kingsmen to a 78-52 victory against LaPorte in Class 4-A Sectional action on Friday, March 1, 2019, at Penn.
The Kingsmen (21-3) play South Bend Adams (14-12) at 7:30 p.m. on Saturday, March 2, for the Sectional Championship. The Kingsmen are seeking their 16th Boys Basketball Sectional crown, and their first since 2014. Penn is seeking to be the first host in this Sectional field (South Bend) to win the title since 2000. LaPorte's season ends at 12-11.
Lutz is just the seventh player in Penn Boys Basketball history to reach the 1,000-point plateau.
Lutz and Noah Applegate give Penn two 1,000-point scorers on the same team for the first time in Kingsmen hoops history. Applegate, Penn's all-time leading scorer with 1,630 points, reached the 1,000-point mark last season. Penn basketball started in the 1958-59 season.
Lutz entered Friday's Semi-final Game against LaPorte with 992 points. He swished a 3 from the top of the key as he was fouled, and added the free-throw for the four-point play to push him past the 1,000-point mark. Lutz, a 6-foot-1 point guard, also dished out seven assists.
Beau Ludwick ignited the Kingsmen attack with 14 first-half points and ended up with 17 points and seven rebounds.
Applegate scored 15 points and fought for eight rebounds in the victory against LaPorte.
Kegan Hoskins scored 13 points and grabbed five rebounds.
Carter Hickey contributed six points and had four assists.
PENN 78: Carter Hickey 6, Drew Lutz 20, Jahawn Horton 0, Beau Ludwick 17, Evan Groves 3, Derek Derda 2, Noah Applegate 15, Caleb Applegate 0, Kegan Hoskins 13, Gavin Ruth 0, Casey Shultz 2, Joe Apata 0. TOTALS 24 20-27 78.
LaPorte 52: Jordan Nichols 0, Ethan Osowski 0, Peyton Marker 0, Terry White 0, Carson Crass 2, Garrott Ott-Large 13, Jake Spence 10, Drake Gunn 14, Mason Schroeder 3, Micah Spratt 0, Grant Ott-Large 10. TOTALS 21 2-10 52.
PENN 19 16 25 18 — 78
LaPorte 18 11 13 10 — 52
Three-pointers: PENN 10 (Beau Ludwick 4, Drew Lutz 3, Noah Applegate 1, Carter Hickey 1, Evan Groves 1), LaPorte 8 (Garrott Ott-Large 3, Jake Spence 2, Grant Ott-Large 2, Mason Schroeder 1).