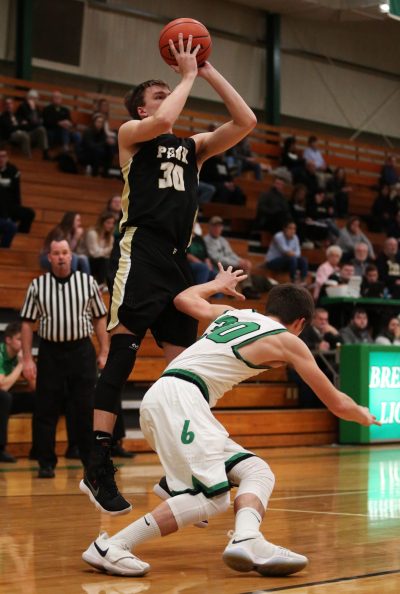 Penn All-State candidate Noah Applegate scored 25 points, including a silky baseline jumper in the third quarter that pushed him past the 1,000-point plateau in his career, and the Kingsmen defeated Bremen, 79-38, Tuesday night in high school basketball action. He is the sixth player in Penn Boys Basketball history to surpass the 1,000-point mark.
Applegate entered the game against Bremen with 978 points. The 6-foot-6 Junior wing hit 8-of-15 shots, including 3-of-6 from 3-point range against the Lions. He was 6-of-6 free-throw shooting.
Penn point guard Drew Lutz scored 19 points, dished out 13 assists and ripped off six steals. Lutz was a sizzling 7-of-10 shooting, including 3-of-5 from 3-point range.
Kegan Hoskins scored 10 points and Jeffrey Hemmelgarn scored nine points.
Penn stormed to a 23-2 lead after one quarter.
The Kingsmen outrebounded Bremen 37-19, and cashed in for an 11-3 advantage in second-chance points. Penn held a 14-5 edge in points off of turnovers. The Kingsmen boasted 38 defensive stops, compared to 21 by Bremen.