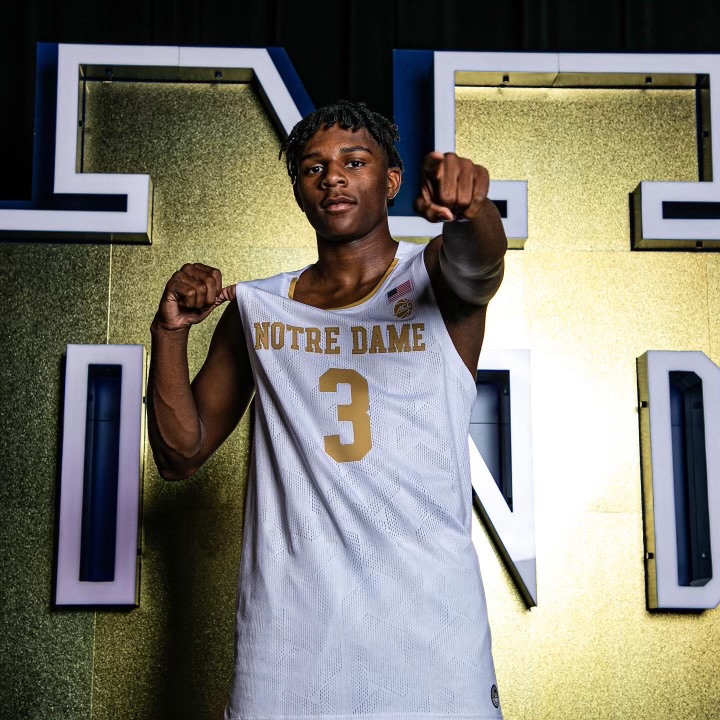 Penn High School Boys Basketball Player Markus Burton, a 6-foot-1 Point Guard (Class of 2023), signed a National Letter of Intent to continue his academic and athletic careers at the University of Notre Dame.
Burton helped lead the Kingsmen of Coach Al Rhodes to a 24-3 record in the 2021-2022 season. He averaged 27.2 points a game in the 2021-2022 season, along with 6.1 rebounds, 5.1 assists and 3.2 steals a game.
Penn won the Elkhart Sectional Championship and a share of the Northern Indiana Conference Championship in 2021-2022. He was the NIC Most Valuable Player in 2021-2022 by the league's coaches.
Coach Mike Brey's Notre Dame Men's Basketball Team posted a 24-11 record in the 2021-2022 season. The Fighting Irish and North Carolina each finished the Atlantic Coast Conference regular season 15-5 in league play, one game behind ACC regular-season champion Duke.
"Markus Burton has combined a lot of talent, with a great attitude, and has become a highly skilled basketball player," Penn coach Al Rhodes said. "He was the most complete player in Indiana last year and has improved all summer.  Markus is not your typical high scorer.  He is an excellent defender and rebounder.  As he moves to the next level you will see his great passing instincts and he will make each of his teammates better.  He has the mental toughness and competitive nature to excel at the highest level of college basketball!!!!!