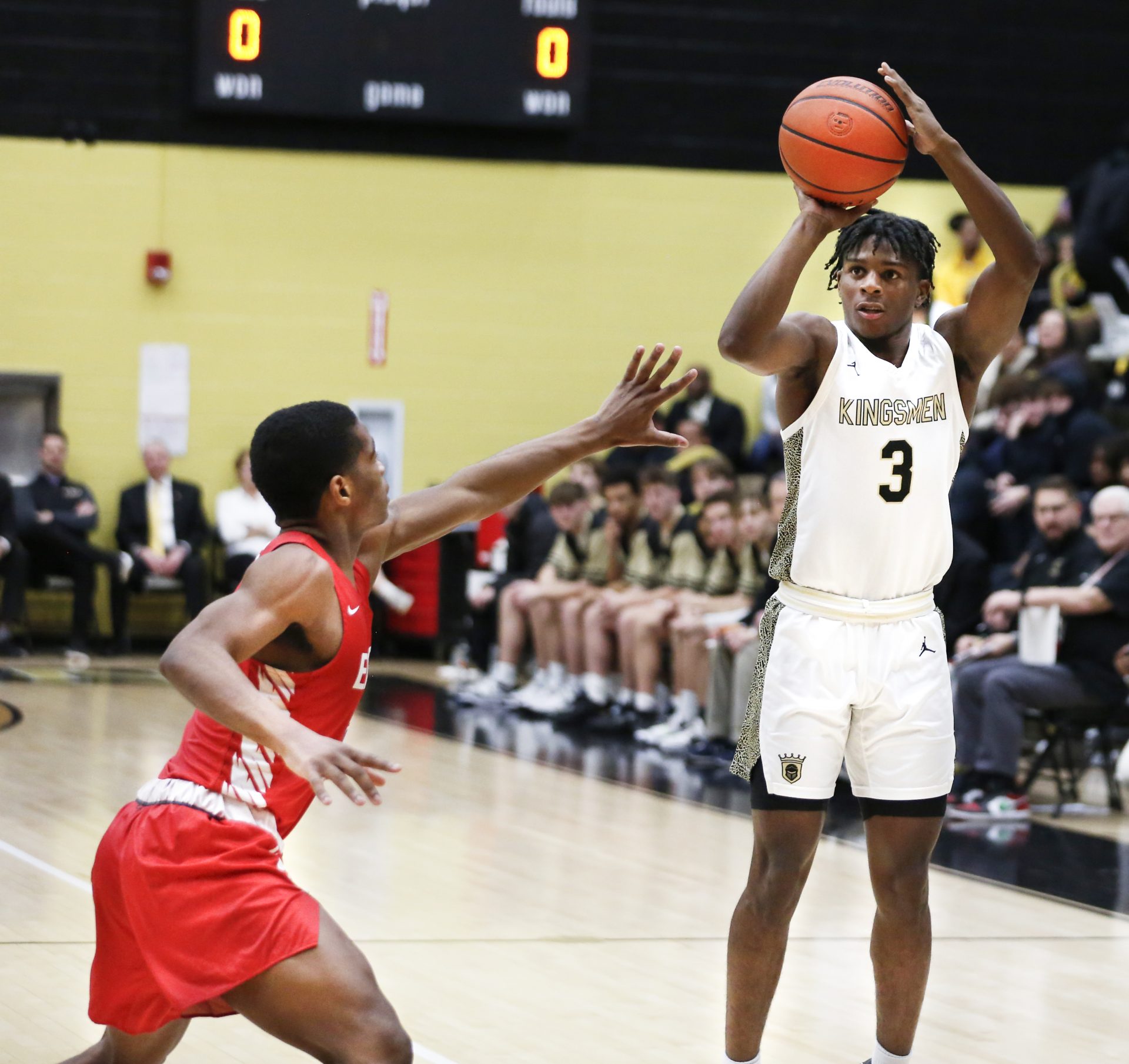 Penn Senior Markus Burton is the all-time Penn career scoring leader and also the single-season scoring leader in Kingsmen Boys Basketball. He currently has 2,182 points wearing the Gold-and-Black, entering the Regional Championship Game against Chesterton on Saturday, March 11, 2023. He currently has 818 points in 27 games this season, topping the program record of 734 that he set last season.
Burton became the eighth player in Penn Boys Basketball history to reach the 1,000-point mark. Burton reached the mark on Friday, Jan. 28, 2022, against South Bend Riley. Burton scored points 999 and 1,000 of his career on a drive and spin move, elevating for a jumper in the lane. He finished with 31 points against Riley. The Kingsmen sprinted past Riley, 76-57, for a Northern Indiana Conference victory.
Burton is the only Kingsmen Boys Basketball player, and the only High School Boys Basketball player in St. Joseph County, to surpass the 2,000-point mark.
Burton currently has 2,182 points in his career, ranking him first on the all-time scoring list. He surpassed the previous high of 1,709 points set by Noah Applegate (2015-2019) in Penn's 66-52 victory against No. 1 (Class 3-A) Marian on Friday, Jan. 20. Burton eclipsed the mark with a steal, drive and lay-up in Penn's 66-52 victory.
Burton became the 10th Penn Boys Basketball player to reach the 500-point mark for a single season. He has scored 818 points this season to rank first on the Penn single-season scoring all-time list.
Climbing the all-time scoring list
Penn's Markus Burton is currently 30th on the all-time Indiana High School Boys Basketball scoring list with 2,182 points. Among the players he passed recently are:
Eric Gordon (2007 grad, Indpls. North Central), 2,178
Charlie Yoder (2020 grad, Westview), 2,163
Chris Thomas (2001 grad, Pike), 2,156
Isaiah Thompson (2019 grad, Zionsville), 2,139
Rich Mount (1989 grad, Lebanon), 2,139
Michael Lewis (1996 grad, Jasper), 2,138
Kenny Rowan (1989 grad, Northview), 2,138
Kyle Macy (1975 grad, Peru), 2,137
Shawn Kemp (1988 grad, Concord), 2,134
Doug Linville (1965 grad, New Salem), 2,120
Steve Alford (1983 grad, New Castle), 2,116
Shane Power (2000 grad, Andrean), 2,110