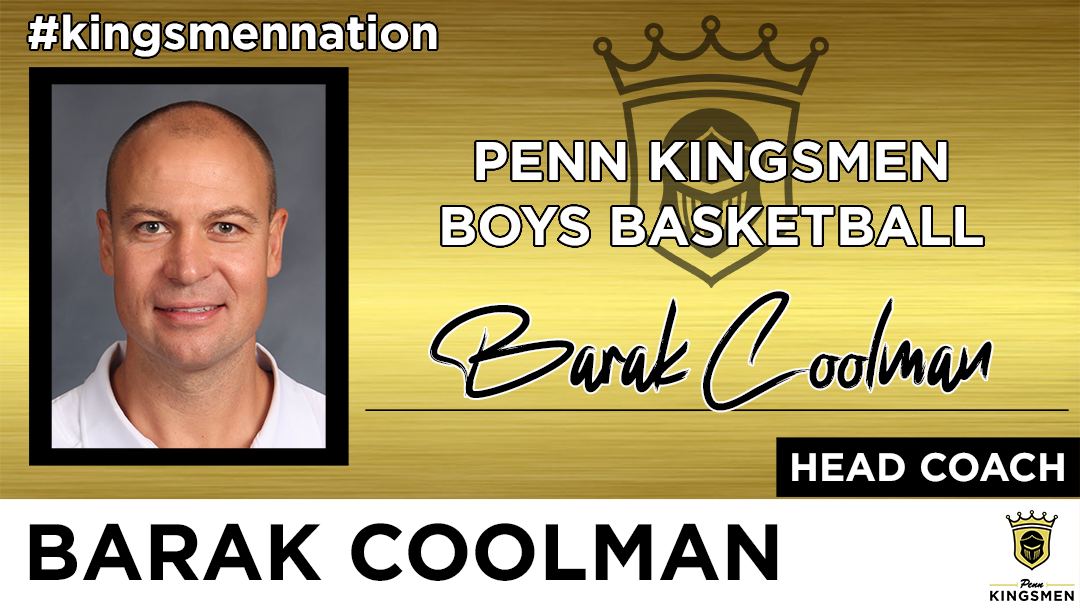 Penn High School Athletics Director Jeff Hart is recommending the hire of Barak Coolman as the new head of the Kingsmen Boys Basketball program. The hire is pending approval by the Penn-Harris-Madison Board of School Trustees at the May 22nd Board meeting. Coolman is a P.E. teacher and is also being recommended to join Penn's faculty.
Coolman served as an assistant coach for Indiana High School State Championship coaches Al Rhodes and Chris Johnson.
He learned as a player and assistant coach from NAIA National Championship coach Mike Lightfoot at Bethel University.
He has talked basketball with the legendary John Wooden, who led UCLA to 10 NCAA National Championships.
Coolman's unyielding pursuit of knowledge, commitment to excellence and passion for basketball turned out to be a perfect fit for Penn High School.
Coolman has been the head coach at Valparaiso High School since 2015. Prior to that, he was the head coach at Fort Wayne Northrop.
"Coach Coolman has a proven track record of high-end success for his teams, both on and off the court," Hart said. "He coaches with enthusiasm, a competitive spirit, and a teacher's heart.  We are thrilled to have him join our outstanding group of head coaches at Penn. His ability to communicate positively and his emphasis on developing high character student-athletes fits the culture here perfectly."
Coolman is excited about taking over the Penn Boys Basketball Program.
"The opportunity to coach boys' basketball at Penn High School is extremely humbling and exciting for me and my family," Coolman said. "Being able to lead such a prestigious program in the footsteps of Hall Of Fame coach Al Rhodes is an incredible honor.
"I couldn't possibly list all the reasons that make coaching at Penn High School attractive," Coolman continued. "P-H-M's winning tradition, strong administration, community support, an abundance of resources, location, and excellent facilities are all obvious draws, along with a district culture that exemplifies excellence across the board."
Coolman leaves a successful tenure at Valparaiso. He guided Valparaiso to 151 victories, three Class 4-A Sectional Championships and four Duneland Conference Championships. Coolman's teams at Northrop won 102 games, won three Class 4-A Sectional crowns, and won three Summit Athletic Conference tournament championships.
Coolman's players at Valpo included Brandon Newman, who helped Purdue achieve a No. 1 ranking last season, and Mason Jones, a Finalist for the Mr. Basketball Award in 2023.
"While change is never easy, we believe that accepting this position at Penn High School affirms our belief that coaching basketball is not just a job, but a way of life," Coolman stated. "We are confident that P-H-M is a great fit for the entire Coolman family, including our rising junior, and rising eighth grader, where they will complete both their academic and athletic endeavors. In Indiana, Penn is considered a pinnacle of academic and athletic excellence. 
"Penn offers all of the obvious characteristics as one of the most prestigious schools to coach student-athletes, in addition to other factors. This speaks to the heart of my purpose as a coach — to foster meaningful relationships that impact a school, community, and student-athletes."
Rhodes, the Indiana Hall of Famer, will be retiring as the Kingsmen Boys Basketball Head Coach after an exceptional tenure at the end of this school year. He is highly recommending Coolman to be named Penn's next Boys Basketball Coach. Rhodes hired Coolman when he was the head coach at Fort Wayne Northrop. Coolman was on Rhodes' staff at Northrop with current Penn assistant coach Julius Smith.
"Barak Coolman will be a great coach for Penn High School," Rhodes said.  "He is the perfect person to continue the great tradition of Kingsmen Basketball.
"He and his staff will bring the first State Championship to Penn!!!!!!" Rhodes said of Coolman.
Coolman graduated from Bethel University in 2000, and earned a Master of Arts Degree from Ball State University in 2006. He graduated from Leo High School in 1996.
In addition to playing for Lightfoot at Bethel, Coolman was hired by Lightfoot as an assistant coach. He was an assistant basketball coach at state power Homestead with Johnson before joining Al Rhodes' staff at Northrop.
In 15 seasons overall, Coolman is 253-118. He owns an outstanding 26-9 record at the sectional level (winning percentage 75 percent) and his teams have cut down the nets six times. Two of Coolman's teams were invited to compete in the Indiana Hall of Fame Classic (2012 and 2018).
Coolman has developed three Mr. Basketball Finalists, three Indiana All-Stars, three Indiana Junior All-Stars, five 1,000-point scorers, 25 first-team conference selections, and 41 of his players have earned Athletic or Academic Scholarship opportunities – with one earning Valedictorian status.
Coolman takes over a Penn program that posted a 28-2 record last season, reaching the Final Four of the Class 4-A state tournament. Penn point guard Markus Burton, a Notre Dame signee, was named Mr. Basketball. All five of Penn's starters from last season signed to play college basketball. Penn's JV team posted a 20-2 record last season, and the Freshmen team was 22-0.
There are already strong ties to the Penn and Michiana communities for the Coolman family.
"Since Valerie, my wife, and I met at a Bethel basketball game over 25 years ago, I have always considered Michiana our home," Coolman said. "Valerie grew up in Wakarusa and Bethel was dear to her family, as her parents were regular supporters of the basketball program, her uncle was a former President, and her late grandfather was on the Committee to help raise money to buy the land for the conception of Bethel College."
Coolman is looking forward to developing Kingsmen student-athletes.
"Our number one goal as Penn basketball players is to represent the school and community with class at all times," Coolman said. "It is our goal to pursue excellence in all that we do. As a team, we will compete at a high level and continue to build upon the winning culture that has already been built, representing the community the right way and making them proud of what we do.  I look forward to continuing the successful tradition of the Penn Kingsmen, established by those who have gone before us.
"(We want to) represent our community in a positive light," Coolman said. "Work to be our best at everything we do. Develop young men with high character who can be great leaders, fathers, and husbands, and make a positive impact on their community and careers."