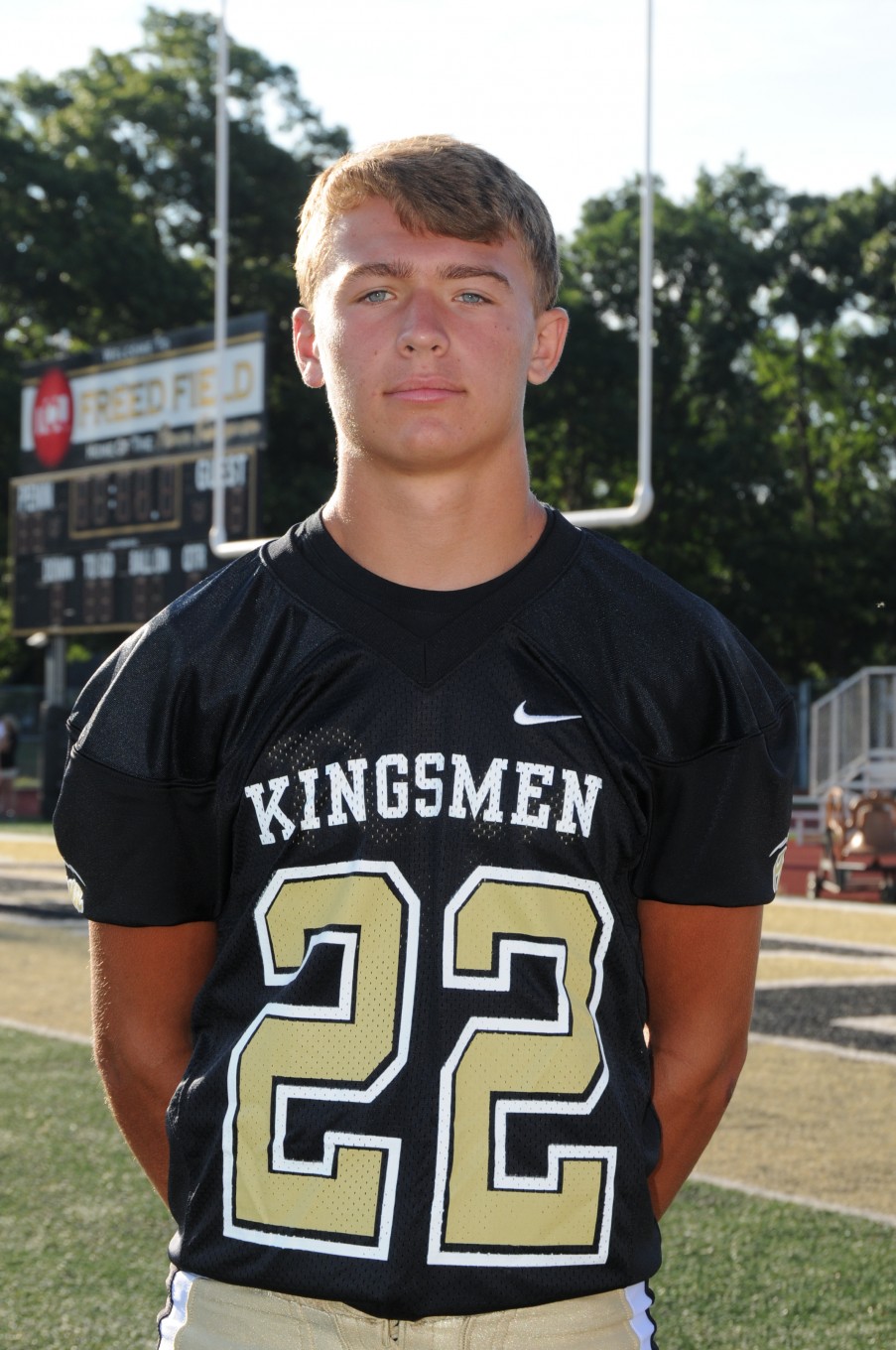 By SAM DeGENNARO
Pennant Reporter
Breaks aren't part of the regimen for Penn High School student-athlete Bailey Mott.
He's a three-sport athlete star for the Penn Kingsmen. Playing three sports for a high school with very competitive sport system can be difficult and also make an education a tough challenge.
"There are a lot of late nights, but I make sure I pay very good attention in class to make studying and homework easier on me," Mott said.
A 5-foot-11, 160-pound senior, Mott is a hard-hitting and heady defensive back and special teams player for football. In wrestling, he wrestles for whatever weight class the team needs him to compete at. In track, he runs the 300-meter hurdles, the 4×800 relay, and the 4×400 relay.
Mott was a reserve on Penn's state championship wrestling team, Penn's state runner-up football team, and has been a state finalist in track.
Penn's athletic director Aaron Leniski thinks Bailey is a very impressive student-athlete.
"It is very challenging even with one sport at Penn," Leniski said. "Bailey is a great kid on the field and a great individual."
He also said that Bailey is "Kingsmen Royalty" because of his accomplishments as a student and an athlete. He is very impressed with Bailey's very high GPA and able to still being very successful at the sports he plays, and he is very proud that we have a student like him here at Penn.
"It is very difficult to transition between sports, because they use more of different muscles depending on the sport, but in the end I'm competing and that never changes," Mott said. "Wrestling is probably the hardest sport, because you have to be in tremendously good shape and be able to push yourself the whole match. Track comes more naturally to me, and that is why I love to run. Football is a little bit in the middle, but with more learning. There are a lot of things you need to know to be able to step foot on the field."
As Mott is in his senior year, he has set a solid goal:
"I want to be a great role model for the underclassman and show how they can compose themselves throughout their high school career," Mott said. "I would also like to win a state title along the way."
Mott also plans to run track in college because it comes natural to him and it's just what he loves to do.
Bailey Mott is a a very good athlete and very-well rounded player. He works extremely hard for his team and knows that keeping a good education  is just as important he is exactly what you look for in a player.