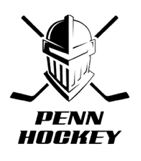 By JORDAN LINDZY
This past weekend, The Penn Kingsmen Hockey Team took a hour and a half trip down to Ft. Wayne, Indiana, to face off in the team's first crossover tournament of the season. In these tournaments, teams with play other teams in the state from different leagues in order to help seed and qualify for the state tournament. The Kingsmen had two games on Saturday against Leo, and Hamilton Southeastern (HSE).
The Kingsmen started off strong, by beating the Leo Lions, 4-3, with goals by Junior Forward Degan Ross, Sophomore Blake Lisek, Junior Jackson Lambert, and the game-winning goal by Freshman Ethan Matthews.
The Kingsmen then played HSE later that day. The team knew they should have won the first game by much more, so they were ready for the second game of the weekend. The Kingsmen rolled to a 7-1 victory.
Goals were scored by Platt (2), Lindzy, Ross, Lambert, O'Connell, and Harman. The game was very chippy, but the boys made sure they just played their game and stayed out of all of the dirty play.
The team rested up that night in order to play in their early morning game on Sunday against the Summit City Panthers. They defeated Summit City 5-2 with the scoring coming from Platt, Calhoun, Matthews, Harman, and Lambert.
The Kingsmen were able to score from all aspects of the ice this weekend with goals coming from both Defense and Offense and from Freshman, Sophomores, Juniors, and Seniors, completed by spectacular goaltending from Junior Goaltenders Brian Mullins (Elkhart Central) and Conner Buell.
After their 3-0 weekend the Kingsmen now advance their record to 6-2-2 (Win-Loss-Overtime Loss) putting them at the No. 1 spot in the Michiana High School Hockey League.