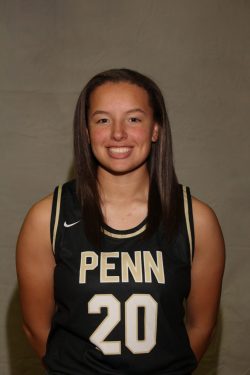 Delayne Sanchez is a very busy Student-Athlete. She plays basketball, and when the season's over, she hops right into softball. It's a challenge that Sanchez will continue for Manchester University, where she will continue her academic and athletic careers.
"With Manchester being a high academic school, it pushes me to work even harder and be better," Sanchez said about selecting Manchester. "In my family, I'm the first person to go to college, so I'm hoping that it goes to show my younger cousins like, 'Hey, it's possible to do this and go to college and that you can bring your passion for sports with you as well.' Especially coming from a single-parent household, it shows that you can turn things around and your beginning doesn't determine your end. Overall, it just made me feel like I'm on Cloud 9, knowing I did it and that I can be successful for myself."
Sanchez said that one advantage Manchester offered is that Josh Dzurick coaches both Basketball and Softball.
Penn Softball Head Coach Beth Zachary said that Sanchez has been a key contributor for the Kingsmen in both basketball and softball, and that she is looking forward to seeing Sanchez excel collegiately.
"Being a two-sport athlete at Penn is not an easy thing to do," Zachary said. "Delayne's ability to communicate well with her coaches, form strong relationships with her teammates, manage her time, and balance her responsibilities for both sports and school will without a doubt help her succeed in everything she chooses to do in life.
"Delayne brings fun and energy to both teams and (Penn Girls Basketball Coach) Ulrich and I have both been blessed to share Delayne, her family, and her talents on the court and field these past four years and are looking forward to cheering her on at the next level."