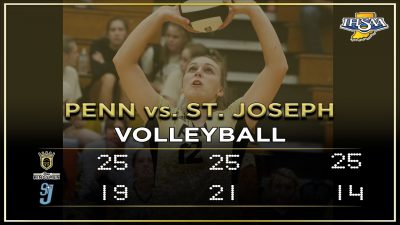 The Penn Girls Volleyball team maintained its unbeaten Northern Indiana Conference record by defeating South Bend St. Joseph, 3-0.
The Kingsmen started out with a 25-19 victory in the first set. In the second set, St. Joe was closing on the Kingsmen, but Penn pulled through with a 25-21 win. Penn dominated St. Joe in the last set, 25-14.
Emma Hickey sparked the Kingsmen with 13 kills and 22 digs, followed up by Cadence McGlothen with 7 kills.  Penn also had Addy Kois contributing 9 kills and 3 blocks, as well as 30 assists and 5 digs.
Macy Hatkevich had 6 kills and 2 blocks and 13 digs, Macy Sherman had 5 kills and Whitney Zarazee had 4 digs.

Twitter
Zac David of the Penn Student-Athlete Leadership Council offers advice for incoming Kingsmen Freshmen student-athletes: youtube.com/watch?v=… Click the link for the Week 1 schedule for Penn Fall sports practices & required forms: pennant.phmschools.o…