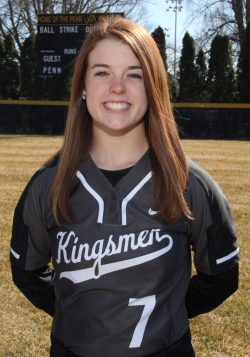 Mary Petras is a Junior who played on the Penn Softball Varsity last season as a Sophomore. She is a member of Penn's Student-Athlete Leadership Council.
What part of playing softball do you enjoy the most?: My favorite part about softball is the fast pace of the game. Anything can happen at any given time, and you have to react quickly in order to get the job done. Not only that, I have gained so many friendships, and some of them I can call my best friends.
Do you have any pre-game songs that you like to listen to before the game starts?: My favorite song to listen to currently is called "Le Pons" by D.J. Kass. The whole softball team listens to it right as we pull up to play.
When you are at-bat, are you nervous or relaxed and focused?: When I'm up to bat I'm nervous and focused. I'm nervous because I put a lot of pressure on myself to do well, but at the same time I'm focused, and ready to put the ball into play.
What is your biggest accomplishment concerning your playing time with softball so far?: My biggest accomplishment is making varsity as a sophomore and starting in right field.
What are your goals for the upcoming softball season?: My number one goal for the upcoming season is to WIN STATE! However my individual goals consist of making an all-state team, and having a batting average of 300.
Do you have any superstitions at all?: Yes! I don't have any superstitions before the game, but I do during it. Typically it's usually me fixing the tab in my shoe before every pitch.
If you could pick any number to wear on the back of your jersey, what number would it be and why?: 3! This has always been my favorite number since I was little, and I have just stuck with it.
Who is one of your favorite athletes?: Javier Baez. I love his work ethic and how fun he is to watch. Also, the types of plays he makes are incredible.
Are there any specific foods you enjoy to eat before games or practice?: My favorite food before a game is a PB & J sandwich.
Do you plan/hope on playing softball in your years after high school?: Yes, I hope to play softball in college, and am hoping that offer comes very soon.