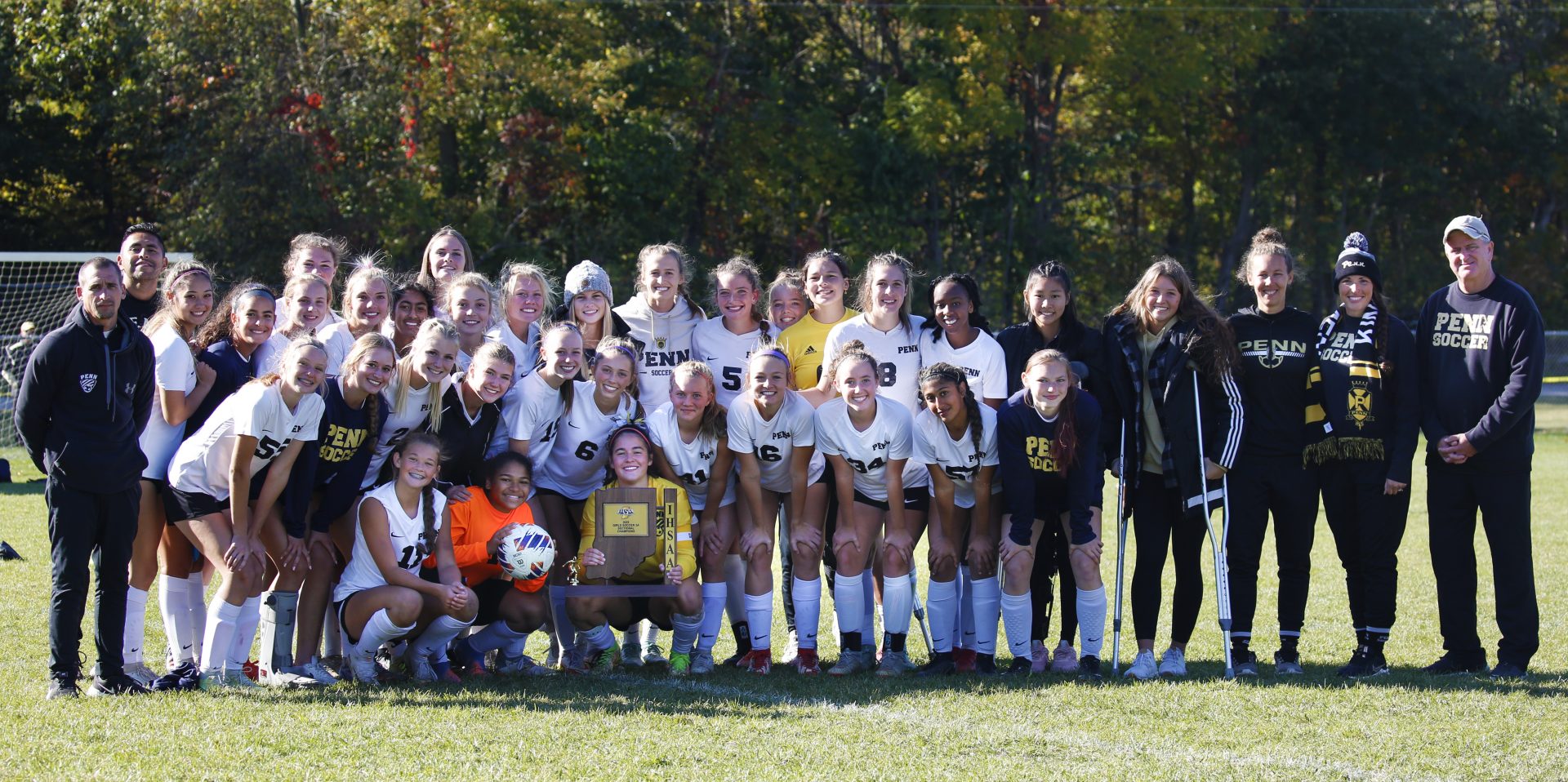 Several Lady Kingsmen Soccer Players have made this year's 2022 ISCA Girls All-District Team. Penn soccer stars Reagan DeMoss, Jenny Keegan, and Lily Smith all made the prestigious team and played for the East-West Division. 
The district teams are made up of the best players in each division of the state, with the players being nominated by their coaches and then voted on. Only the best players across the state make these teams, an impressive feat for Penn to have three individuals advance. 
On Saturday, November 5th, these talented players participated in two games. The first ending in a 2-4 loss, and the second game taking place only hours later ending with a final score of 1-2. 
Defender Player DeMoss commented on the games when asked to compare them to the regular season saying, "the skill and competitive level was higher, but at moments it was obvious that the teams haven't played together before". 
Defender Player and Captain Keegan also weighed in.
"It was weird playing with girls that I had been competing against all year. The level of soccer was exceptionally higher than the regular season games. It made me miss my own teammates and the chemistry we had but I am extremely grateful for the opportunity I was given to play at that level," Keegan said.
Goalkeeper and Captain Smith pointed to how she is proud of herself and her teammates, not only for their hard work showcased in the games, but also for their skill, determination, and perseverance in the regular season. 
After all games were played, the coaches got together to build the "best teams" in the state. The players they award the title of 1st Team All State are the players of each position they feel are the best, and when put together they would make the best team in the state. The 2nd team is filled with the next best of each position, then 3rd team, and honorable mention. 
All titles are exemplary seeing how players are pinned next to the best of the best in the state. For Penn, DeMoss made 2nd Team All State and both Keegan and Smith made honorable mention. 
When she learned she was invited to be on the All Conference Team, DeMoss said "I was really proud of myself because I've worked really hard this past season because I knew it would be my last".
DeMoss says it feels good because it validates all of her hard work over the past four years at Penn.
Their Penn teammates and coaches say they are all proud of these players, and are glad that their talents and dedication were being shown off next to the other best players in the state.