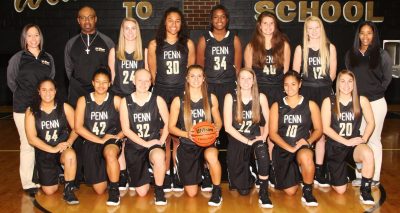 By DELAYNE SANCHEZ
Kristi Kaniewski Ulrich, head coach of the girls basketball team, has once again made her mark in school history by becoming the most winning-nest coach in program history.
Ulrich, who led Penn to the 2016 Class 4-A State Championship, became the all-time winningest coach in Penn Girls Basketball history by picking up her 186th Kingsmen victory when Penn beat Jimtown, 78-12, on Dec. 1.
Ulrich is in her 11th season. She topped the previous Penn coaching victory record once held by coach Dominic Ball, who had 185 wins as a Penn Girls Basketball Head Coach.
"It's extremely exciting," Coach Ulrich said of the the milestone. "The important thing is I didn't do this alone. There are so many people who played a role in this achievement — past and present coaches and players. It's a collective achievement and we want everybody to celebrate it."
Over the years "Coach K" has made an incredible impact, not just on how this program is run, but on the players and staff inside of it. She credited players, coaches, administration with their support, her family, and her husband Jimmie.
Coach Ulrich said that she and the Kingsmen didn't have time to dwell on the accomplishment.
"Basically, it's back to business, working hard every single day, staying focused, with not the focus being on me, but my team and taking games one at a time," Coach Ulrich said. "We need to stay focused on one game at a time and continue to work on achieving our team goals which we set before the season started."
Coach Ulrich said that she appreciates the opportunity to guide the Kingsmen.
"I just feel beyond blessed to be given this opportunity nine years ago to become the leader of this program," Ulrich said. "I'm just so thankful for all the wonderful and great memories and the amazing young ladies I've been able to impact their lives through the game of basketball."