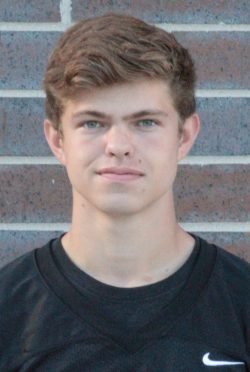 By BRADY SMITH
Ben Fox is a Senior at Penn High School and is a part of the Varsity Football team. He plays varsity at the wide receiver position.
What made you want to become a wide receiver?: I started playing receiver in eighth grade because I thought that's where my skill set could be best used at. I also wanted to play receiver because my favorite player growing up was, Calvin Johnson, so he was a big motivation for me becoming a wide receiver.
What pushed you to be the player are today?: My coaches, teammates, and family are what pushed me to become the player I am now. They all gave me the courage and motivation to give it my all everyday. Without all of them helping me throughout my years of football I would not be where I am today.
Do you plan on taking football with you to the next level?: I do not currently plan on playing football at the next level. It has always been a dream of mine, but as of right now I feel the best thing for my future would be furthering my academic career. If I do receive offers to play at the next level, it will be in major consideration.
Where do you see yourself in the future: As of right now, I see myself going to college and studying biology. I hope to one day have a career in the medical field. Being an active and attentive student has always been important to me and I hope to bring that with me in the future."
How big of a priority is football in your life?: Football is definitely one of my main priorities in life. It takes up so much time of the week and if you don't prioritize it, you will not receive the results you desire. It is very important for my teammates and I to be able to balance football with school and other aspects of our lives.
Who are your biggest supporters/fans: My biggest supporters are definitely my family members. They always make it a priority to make it to all my games and make sure I have all the resources necessary to be the best I can. They know how important football is to me and will help me in anyway they can.
What do you enjoy most about football?: My favorite thing about football is definitely competing with my teammates. We have all been competing together since we were very young. The relationship we have all built over the years is unbreakable and I love being able to go out there everyday and work hard with them.
What is your pregame song?: My pregame song is "Havin my Way" by lil skies.
What is your pregame snack?: My pregame snack is two turkey sandwiches.