Three Penn hockey players named all-conference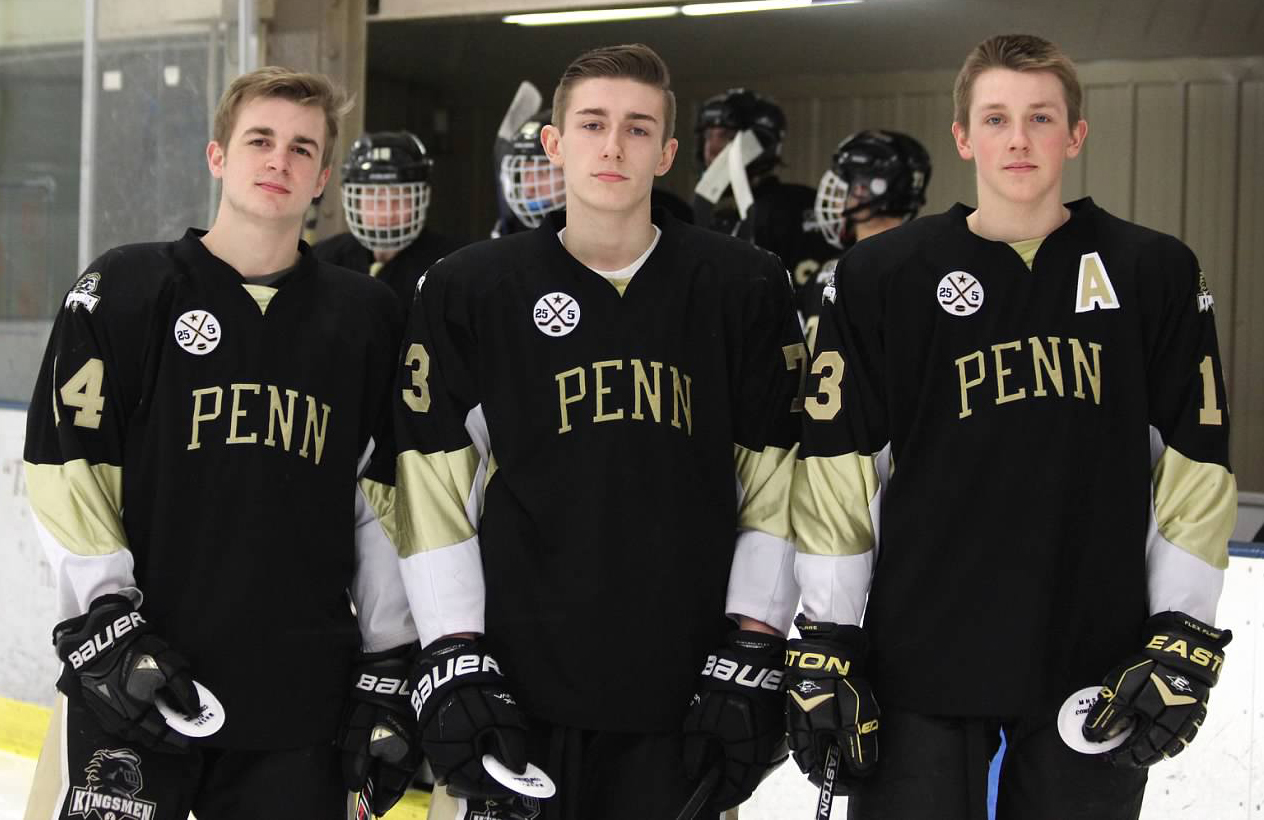 By CARSON COCQUYT
Three Penn hockey players – Tyler Lindzy, Will Carey and Lucas Forbes (pictured above) — were named to the Michiana High School Hockey League All-Conference team.
Forbes, a left-winger, had a very successful regular season as a senior to earn all-conference honors. He scored 20 goals and dished out 16 assists, not letting a knee injury suffered in the middle of the season slow him down.
Planning to attend Indiana University and study at the Kelley School of Business,. Forbes also was part of the Senior Academic Award Team, which is made up of only seniors across the State of Indiana who maintained a high grade-point average.
Forbes was also the first Penn Hockey player to receive the Matt Crace Memorial Scholarship Award. Forbes received this award because of his 4.25 GPA, his community service, and his leadership as a Penn Kingsman.
All-conference right-winger Tyler Lindzy has been a very useful weapon for Penn this season. He leads the Kingsmen with 27 goals heading into Saturday's state championship game against Leo. Lindzy also added 16 assists in 41 games to total an impressive 43 points.
Will Carey earned all-conference honors on defense. The junior moved here last year from Buffalo, New York, and has helped Penn cover its defensive zone. Not only did Carey help Penn's goaltenders limit opponents to 34 goals, but he also had nine points as a defenseman. He carved out a tough reputation because of his defensive-minded skills and hits.
The all-conference players were selected in a vote by MHSHL coaches. The vote selects outstanding players who have shown hard work, dedication, and sportsmanship against their opponents.
First-team all-MHSHL
No. 44 Tyler Lindzy (junior)
No. 73 Will Carey (junior )
No. 13 Lucas Forbes (senior)
Also receiving votes
No. 1 Justin Savage (junior )
No. 4 Shaun Calhoun (senior)
No. 21 Kyle Cocquyt (junior )
No. 94 Tate Seroczynski (senior)