In Good Condition: Penn High's Newest Addition to Physical Education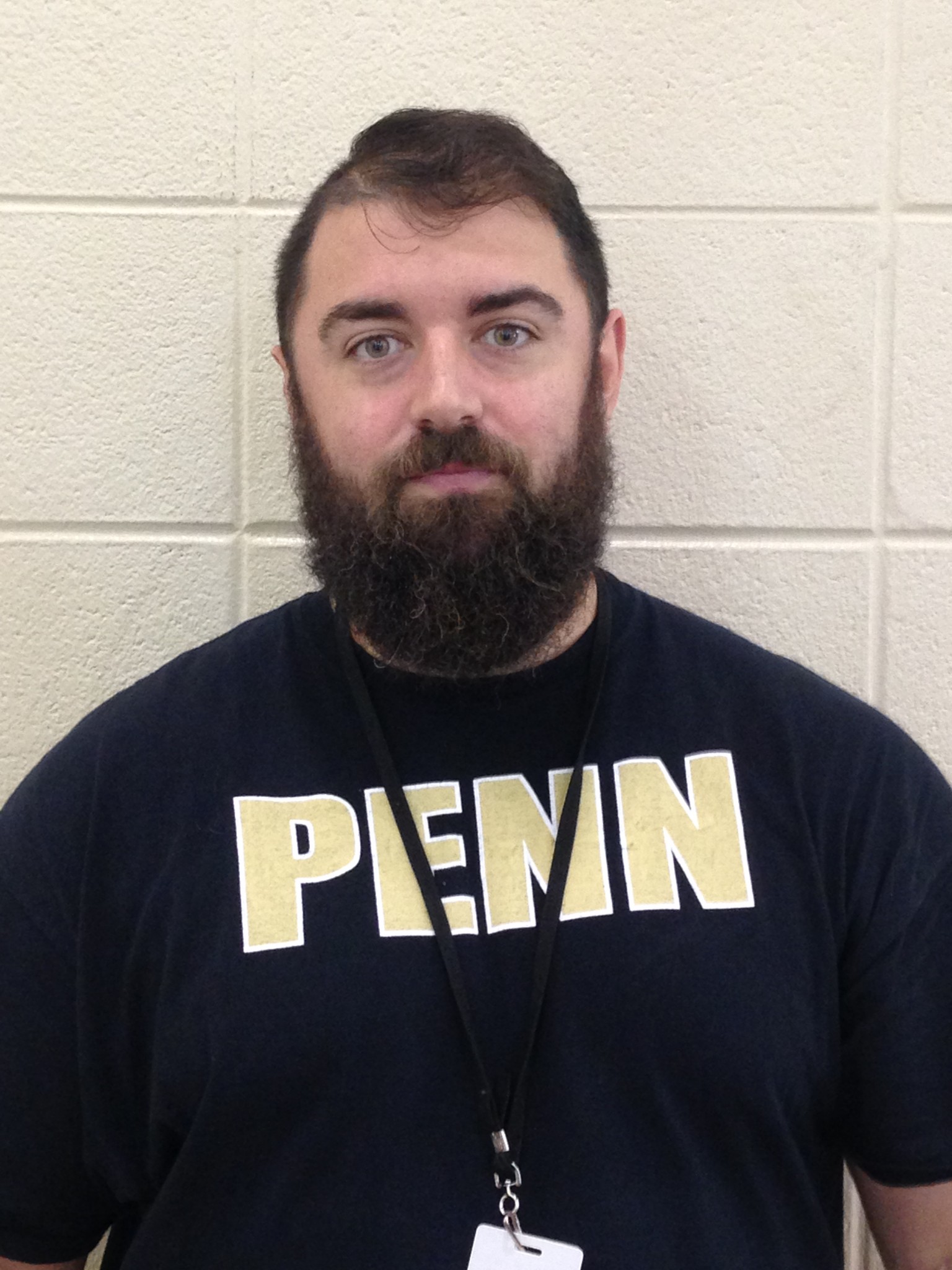 By CHINONSO EMENIM
Pennant Reporter
When you walk through the doors, the first thing you notice besides the music blaring over the speakers is the black and gold; everyone's wearing school colors.
Everywhere you turn, kids are knocking out sets on the bench presses with surprising efficiency or lifting free weights at equally surprising rates, all under the careful supervision of one coach, broad-shouldered Matt Cates.
"No! You start low and work your way up!" he corrects a student who made the mistake of starting out too high on the bench press. The intensity in the room is tangible.
It does not take a great leap of imagination to visualize Matt Cates striking fear in the hearts of his opponents on the football field in high school at Portage and college at Manchester University, where, coincidentally, he was roommates with Penn Dean of Students Brandon Tugmon. (According to Cates, he was the better roommate.)
Now as a teacher, Cates brings that same intensity to his strength and conditioning fitness classes.
For 11 years, Matt Cates has been a trailblazer in Indiana high school athletics. From Indianapolis to Michigan City, Cates has brought his Strength & Conditioning class to schools all over the state. Now, he's bringing it to Penn High School, as his Strength and Conditioning class is in its first year at Penn.
"We've been talking about sport-specific strength conditioning for a while now," said Penn Athletic Director Aaron Leniski. "Last year, Mrs. Pawlik (who organizes the physical fitness classes) came to me and said we could finally fit it in this year, so we worked with the superintendent and Mr. Hope, went through the interview processes, and hired Mr. Cates."
With 1,100 students participating in school-sanctioned sports with a whole lot more in club sports like hockey or rugby, Penn isn't your normal high school when it comes to athletics. Hiring one person to oversee a program like Penn's wasn't taken lightly by the athletic department.
"When we were going through the interviewing process, we talked to a lot of guys who had only coached at the collegiate level, where one coach might have two or three assistants and work only on one sport," said Leniski.  "Many of them found it difficult to explain how they would implement a program with 1,100 kids. Ultimately, we chose Coach Cates because of his extensive background creating programs like this for high school student-athletes."
As one might guess, Cates' Strength and Conditioning class is centered around keeping athletes in shape both during the season and in the off-season, and putting students through different programs to help them in their specific sports.
While there has been a decent turnout in the first semester so far, Cates would like to see more.
"The first year never has that many kids, but next year, or even maybe second semester, I'm hoping to get about 70 athletes per class before, after, and during the school day," Cates said. "That way we can do a lot more with them during the offseason and also for injury prevention as well. You can't prevent everything, but some of the minor injuries, and even some major ones, can be prevented by being a little bit stronger or a little bit tougher. Being a part of a year-round workout plan is the major key."
So far, student feedback has been positive.
Maggie Brenneman, a junior on the varsity girls' lacrosse team, enjoys the personalized feel of the class.
"(Coach Cates) creates your workouts based on whether or not you have a game that night, and whether or not you are in-season or offseason," Brenneman said. "It's a very customized class, and I would definitely recommend it to my teammates. It's a great way to stay in shape during the offseason."
Before Cates' Strength & Conditioning class, there was no way for athletes to conveniently get workouts in during the school day.
Zero Hour requires many students to find an alternative way of getting to school, and both Zero Hour and staying after school can get in the way of academics and sleep, something Leniski and the athletic department couldn't have.
"We realized that we were asking the kids who spend the most time at Penn High School to spend even more time here," Leniski said. "The student part comes before the athlete part, and we're very proud of the fact that the average athlete GPA (3.7) is actually higher than the non-athlete GPA."